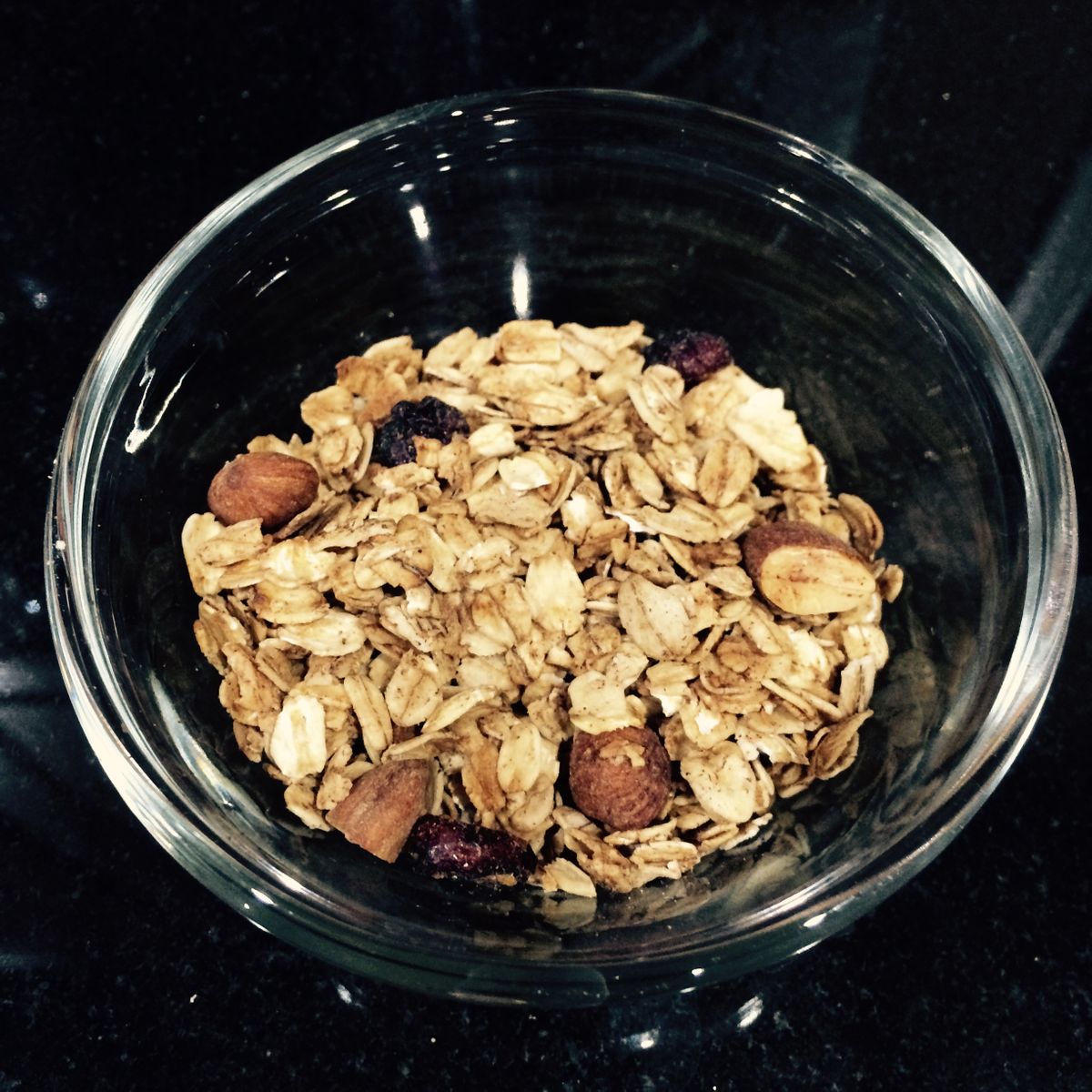 Diana's Homemade Granola (GF, dairy free)
Ingredients
*This makes about 5 cups of granola*
4 cups rolled oats
1/4 cup craisins
1/2-1 cup roughly chopped almonds
1/2 cup shredded coconut, unsweetened
1 tsp ground cinnamon
1/2 tsp sea salt
1/3 cup coconut oil
1/4 cup maple syrup
2 tsp vanilla extract
Directions:
1. Preheat oven to 325 degrees. Combine all dry ingredients in a large bowl and mix thoroughly.
2. In order to melt the coconut oil, heat the oil and maple syrup in a sauce pan on the stove (or microwave them together in a Pyrex glass measuring cup for less dirty dishes).
3. Remove the coconut oil and syrup from the heat, then add the vanilla and stir.
4. Pour wet mixture over dry ingredients and use a spoon or spatula to mix well, making sure all dry ingredients have been covered well.
5. Cover two large baking sheets with parchment paper and pour half the mixture on each baking sheet. Spread the mixture out evenly across each pan.
6. Bake for 12 mins, pull the granola out of the oven and "stir it up" for even baking. Place back in the oven and bake for another 10-12 mins or until you see it turn a slight golden brown color. *Tip: switch the pans on top and bottom when you put them back in the oven because the top rack tends to cook faster than the bottom rack. (It can burn quickly, so check it often if you decide to go over a total of 22 mins cooking time.)
7. Take out and let cool for at least 15-20 mins. Store in an air-tight container and enjoy it with almond milk, over greek yogurt, or just as a dry snack!