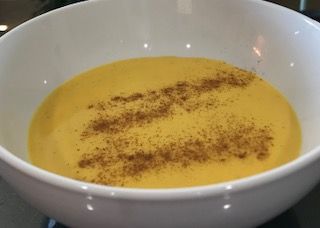 Butternut Squash Soup (GF, dairy free, vegan, paleo)
Ingredients
2 lbs Butternut squash

2 cans full fat coconut milk

1 cup water

2 cloves garlic, chopped

1 tsp turmeric

½ tsp ground ginger

1 tsp salt (add up to 1/2 tsp more to taste)

1 tsp pepper
Directions
Use a vegetable peeler or sharp knife to peel outside layer of squash. *If you don't have a peeler, use a knife and get as much skin off as you can without cutting off too much flesh (yours or the squash's).

Cut up squash into 2 inch pieces. (Spoon out & discard seeds.)

Add all ingredients in the slow cooker.

Cook on high for 2.5 hours or low for 4 hours. (*If using an instant pot, press the "soup" button on 30 mins.)

Once cooked, transfer 1/2 the soup to a blender and blend until smooth. Make sure you take the plastic top off the blender cover to let the heat escape if the mixture is very hot. You don't want the top to pop off!

Transfer the blended soup to a large glass serving bowl, then blend the other 1/2 of the soup. Serve immediately while hot. *You can store in fridge for 4-5 days in a sealed container and reheat for a breakfast, lunch, or dinner later in the week!*
Optional garnish: a spoonful of Greek yogurt with a sprinkle of cinnamon on top.